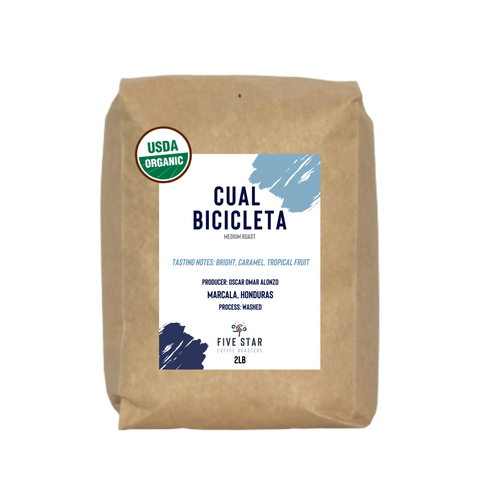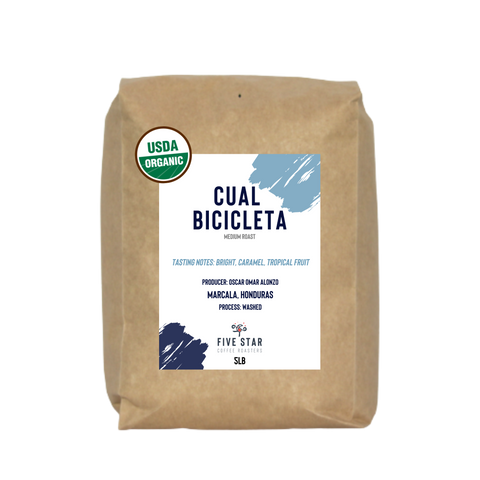 Five Star Coffee Roasters
Organic Cuál Bicicleta
Certified: Organic

Notes: Caramel, Tropical Fruit, with Bright Acidity
Roast: Medium 
Farmer: Oscar Omar Alonzo
Farm Elevation: 1560M
Region: Marcala, Honduras
Processing Method: Washed Process
"Cuál Bicicleta" is an organic specialty coffee grown by Oscar Omar Alonzo, a true Honduran farmer and owner of Finca Cuál Bicicleta. This coffee embodies the spirit of determination and hard work, as reflected in its name (Cuál Bicicleta = Which Bicycle) which originated from the idea that when you're riding a bicycle, you have to keep pedaling through both good times and bad, and never look back.
With a medium roast and grown at an elevation of 1560M in the Marcala region of Honduras, Cual Bicicleta is a testament to the dedicated and passionate farming methods of Oscar Omar. The coffee beans are processed using the washed method, ensuring a pure and fresh taste with every cup.
Enjoy a rich and delicious flavor profile with notes of caramel, tropical fruit, and bright acidity. This organic coffee is grown without the use of harmful chemicals and pesticides, ensuring that you get the purest and freshest coffee experience.
Start your day with a cup of Organic Cual Bicicleta and taste the passion and dedication that Oscar Omar puts into every bean. Get a taste of Honduras, one sip at a time!