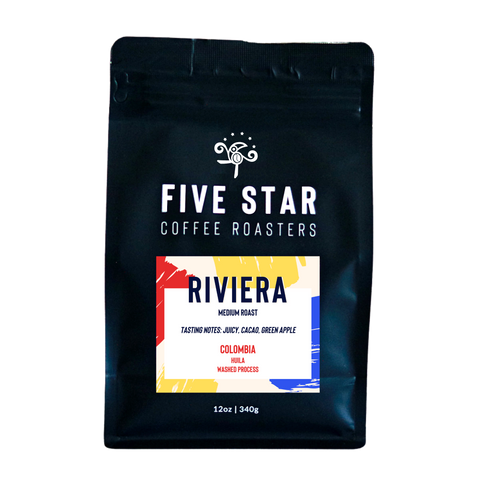 Five Star Coffee Roasters
Riviera
Notes: Cacao, Green Apple, Juicy
Roast: Medium
Farmer: Finca La Lina
Farm Elevation: 1450M
Region: Pereira, Risaralda, Colombia
Processing Method: Washed
"Riviera" is a specialty coffee from the estate farm Finca La Lina in Pereira, Risaralda, Colombia. With a coffee tradition spanning three generations, this farm produces only the finest coffee using traditional Colombian Castillo and Bourbon Rosado varietals.
The unique environment of the farm, with its mineral-rich soil and 10 water springs, contributes to the clean, balanced flavor profile of Riviera, with pronounced notes of cocoa and panela.
This coffee is processed using the washed method, further emphasizing its bright, clean flavor. Grown at an elevation of 1450 meters, Riviera is harvested twice a year during the months of April to June and October to January, making it a delicious and special coffee experience.